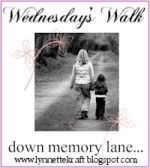 I grew up in a small town in South Dakota. I was so fortunate to live near a whole lot of extended family on both my mom and dad's side. We were and I still am, very traditional Dutch/German descendants in certain things. Namely, cooking and baking. I love all things Bread and all things homemade. Some of my fondest memories are of my grandmothers, mom and Aunts baking and cooking. It was such a huge part of our lives as I was growing up and I don't think I even realized what an important role it played in my life until I became a "grown up".
Recently I've been reminded of just how big of a role it did play. My husbands' family is visiting from Alaska tomorrow and Friday and my kitchen has been a flurry of baking and cooking! Yesterday I took my mom in for some out patient surgery. Once I got her home and comfortable, I took the opportunity to raid her recipe cupboard. I wanted to make another pan of bars but just couldn't find a recipe I wanted to use.
It may seem rather silly but seeing my mom's handwriting on all of those recipe cards and cookbooks was really "heart warming" for me and brought back all of those fond memories.
I took home a few of her recipe cards and made Fudge Nut Bars. I took a shot of the finished product along with the recipe card written in my mom's hand.
What a neat way for me to be reminded and remember a wonderful part of my childhood!