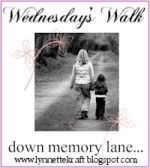 I miss my daddy today. Every day. A "new blogging friend" Jessica @ http://thecrazycarsonclan.blogspot.com/ put it best: "I miss my daddy so much sometimes that I find it hard to catch my breath". Yeah. That's just how it feels.
I'm struggling with a few things right now and I just want him here to talk to. I want to put my hand in his great big warm one and just sit with him. I want to hear his voice, it's been so long. I just want to be selfish for just a day and just be with him. Have him tell me everything is going to be just fine like he always used to.
A sad first Wednesday's Walk but that's just how I feel today.