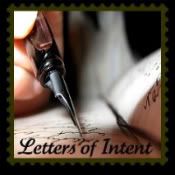 Ah Friday! Time for another Letter of Intent. Oh
Julie
, what a great idea! Be sure you check out all of the other Letter's of Intent. You're gonna love it!
Dear Jon & Kate Gosselin,
It has come to my attention, and that of
EVERYONE ELSE
, that you are going through an ugly divorce. I'd like to take this opportunity to address said ugly divorce.
Now you may not feel it's any of my business to address however, you have made it
EVERYONE ELSE'S
business so deal with it.
Jon, no matter what some younger women may be whispering in your ear, you are not God's gift to women. The youthful clothing, the earings in your ears and the cavorting around the Planet with much younger women just makes you look like an idiot. You are still a middle age man with many children and a gut you can't hide under clothing better suited to teenagers. Grow up.
Your countless television, radio and magazine interviews are beyond old. Shut the hell up. Yes Kate was a bitch to you during your marriage. No she shouldn't have treated you the way she did but honestly, do you really think you are any better? Have you never heard the "Sticks and stones" and "Glass houses" sayings? Cause if you haven't, I would be happy to fill you in!
If you truly did take $200,000 out of a joint checking account, put it back. DUH?! Idiot.
Kate, let's be honest here. You were a bitch to Jon. You were. You should not speak to your spouse the way you spoke to Jon. No, that's no reason for Jon to completely wig out the way he did but still. What goes around comes around. You send bitchiness out, you may just end up with a whole lot of bitchiness back in your lap.
You tearfully said Monday morning on the Today show that you never wanted to air your dirty laundry in public but Jon has left you no choice. Yeah. Sure. Maybe you'd like to get back on the air and see if you could sell some prime beach front property in Arizona too? Because if you were serious, you would have continued to let your legal team handle it and KEPT IT TO YOURSELF.
And can we please, for one moment, discuss having $210,000 IN A CHECKING ACCOUNT?! Who has that kind of money in ANY account let alone a joint checking account?! You seriously have bills so large that you need that kind of jing in a Bank account?! I think it's time to take a good hard look at how you're livin' girlie. And no one bought the "I will work at McDonald's if I have to so I can take care of my kids" ploy. Please. Aren't you a nurse? Isn't there a large demand for Nurses right now? McDonald's? You seriously "jumped the shark" on that one honey.
And finally, you two are not the only ones walking the planet that ever went through a nasty divorce. I myself, have been through a nasty divorce. Hey Kate, my ex hasn't paid child support in nearly two years and he thinks it's totally ok to let BSP pay for and raise his daughters. You don't see me on the Today show or any other National media outlet bitching about it, do you?
So both of you,
shut up
! Go take care of the many, many children you have running around. Who, by the way,
got you where you are in the first place!

Get off of my TV, get out of
every single magazine
in the supermarket.Ok kids? Now go play nice.
But do please GO.